Shanarc Archaeology is one of the leading archaeology companies in Ireland. Our goal is to provide clients with the best advice and service, to ensure they achieve the aims of their projects in a timely and cost effective manner.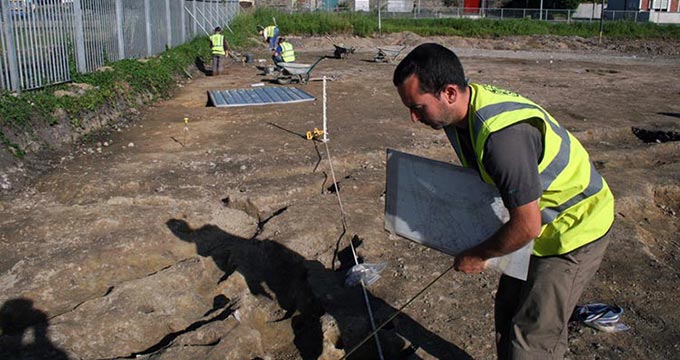 We provide efficient, expert, and cost-effective solutions for needs including:
We specialise in archaeological and survey work that may be required in the planning process for certain developments. These can range from from one-off housing builds up to major infrastructural projects.
We provide suitably qualified archaeologists as required by your Planning Authority (Local City or County Council). Our team will conduct the necessary work and produce the relevant reports to allow you comply with the terms of your planning application, such as requests for further information, or to confirm compliance with planning conditions.
What makes Shanarc Archaeology one of the best archaeological companies in Ireland?
The main factors are our experience, expertise, and efficiency.
Experience: We have been providing professional archaeological and survey services in Ireland since 1995. Shanarc Archaeology was then established by Seán Shanahan BA MSc (Hons) MIAI MIASP in 2008. Our team have dealt with projects of every scale, from one-off houses to wind-farms and road developments. Whatever the scope or scale of your project, we are here to assist you.
Expertise: Since foundation, Shanarc Archaeology has grown to a team of five permanent archaeologists. All are highly qualified, with specialist knowledge in several subject areas. We also use occasional contractors when required by the scale of a project. We choose these carefully, so as to maintain our high levels of expertise.
Efficiency: At Shanarc Archaeology, we pride ourselves on delivering an efficient and cost-effective service for every project, regardless of size. We have invested significantly in our training and survey equipment. Recent aquisitions include a Trimble TX8 (Model 2) 3D laser scanner to advance our range of services, to meet a growing demand in the survey side of the business. We strive to complete any archaeological project in the shortest time-frame possible, and within budget, whilst complying fully with the planning requirements. This facilitates our clients in progressing with the next phase of their development projects, on schedule.
Archaeological services all over Ireland
Shanarc Archaeology is available to provide archaeological services all over Ireland. From our Kilkenny base, we have already completed numerous projects in Counties Dublin, Kilkenny, Wexford, Carlow, Kildare, Limerick, Waterford, Offaly, Tipperary, Mayo, Westmeath, Cork, and Clare. We are also available for projects throughout the rest of Ireland.